What If We're Wrong About Anxiety?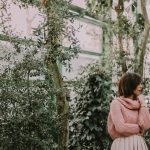 She was like me. Anxiety plagued her.
Not the kind that makes you nervous but the all consuming, paralyzing, depression causing beast that is true anxiety.
We had different views, she and I. I believed the root of anxiety was my sinful distrust in God. She had been told that she suffered a chemical imbalance.
But which diagnosis holds more hope?
I dare say the first one.
The Bondage of Anxiety
In scripture, we only find anxiety referred to as a sin or something to cast off and replace with trust in God. And while I do think it's possible that a percentage of men and women may experience panic attacks due to an imbalance of some sort, the majority of sufferers may only be tending to the surface wounds of a deeper issue.
If this is so, the medications they use could be the very thing tightening the cuffs on their hands and feet, keeping them chained to the thing they hate most.
The Lord is at hand; do not be anxious about anything, but in everything by prayer and supplication with thanksgiving let your requests be made known to God. And the peace of God, which surpasses all understanding, will guard your hearts and your minds in Christ Jesus. Finally, brothers, whatever is true, whatever is honorable, whatever is just, whatever is pure, whatever is lovely, whatever is commendable, if there is any excellence, if there is anything worthy of praise, think about these things. (Philippians 4:5b-8 ESV)

Humble yourselves, therefore, under the mighty hand of God so that at the proper time he may exalt you, casting all your anxieties on him, because he cares for you. Be sober-minded; be watchful. Your adversary the devil prowls around like a roaring lion, seeking someone to devour. Resist him, firm in your faith… (1 Peter 5:7-9a ESV)
Sometimes our bodies are struck with panic seemingly out of nowhere. But more often than not, we can travel down the previous pathways in our mind to find the compounded thoughts which caused our bodies to react in this way. Taking an honest look at what we've allowed our minds to dwell on can shed light on the root cause. This is almost always the case, if we're willing to do the work.
Both of the above passages and the many "do not fear" verses in the bible, show a putting off of anxiety, fear, and distrust and a putting on of prayer, thanksgiving, and good and truthful thoughts. Maybe that's because our thoughts have a whole lot to do with anxiety.
If our thoughts are not guarded by truth, they are a playground for Satan who is "prowling around like a lion, seeking someone to devour."
Who better than a woman whose mind is weak with fear for him to attack?
Hope in the Healer
Anxiety is painful. It creeps into every corner of your life and strangles the joy out of your heart. I understand the draw to medicate. Taking a pill to find rest from the mental and physical stress sounds pleasing to our quick-fix ears. I've spent many nights in 5-hour long panic attacks wishing for a pill to calm my restless soul and shaking body.
But if I had a pill to take all those nights, where would I be now?
In even more bondage.
If you told me 4 years ago that I would no longer have panic attacks 3-4 nights a week, I would have never believed you. I was so entangled in fear and anxiety that I didn't think I'd make it through some days.
Fear ruled my heart and every decision I made. But God didn't leave me there. He showed me through biblical counseling (much different from a Christian therapist) and his Word that the disease didn't reside in my mind, but in my heart instead. I didn't trust God with what I was fearing. My anxiety was a symptom of unbelief in a very faithful God.
It was not a disease placed on me but one I was causing myself, by way of my sin.
What's the hope in that? Oh dear friend, let me tell you.
The hope is that while there's no cure for a chemical imbalance, there is a Healer for sin! And he stands ready and willing to fight with us and for us and heal us of it.
Furthermore, he has bought our freedom. Those who are in Christ are no longer slaves to sin! And if anxiety is a sin, you and I are free! (Romans 6; Galatians 5:1)
God's power which raised Christ from the dead lives in us and it's that very power that enables us to choose trust over fear and peace over the chaos that is anxiety. (Romans 8:11; Ephesians 1:19-20)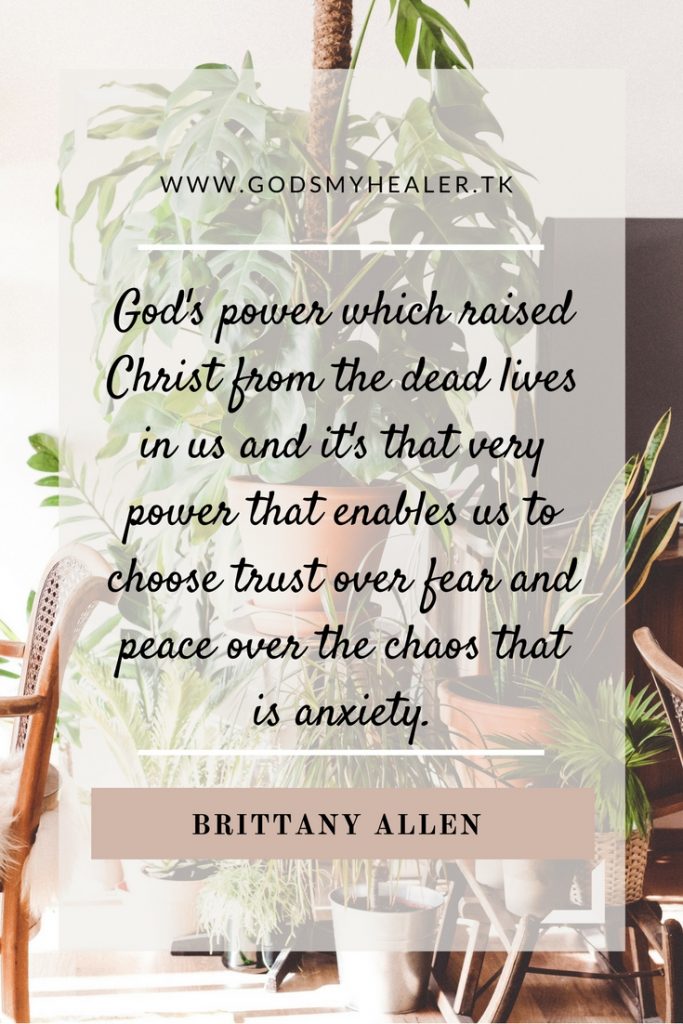 There is Freedom
I still have much to learn about trusting God, but my heart rejoices that I'm not where I used to be. By God's grace, panic attacks have become few and far between. And when they do emerge from my anxious heart, God always meets me there reminding me to cast my fear on him as he walks through the fire with me.
I look to his Word and find freedom.
So if the Son sets you free, you will be free indeed. (John 8:36 ESV)
I know this is a touchy subject. Many emotions are at play here.
But we need to ask these questions about anxiety, because there is much at stake.
3 1/2 years ago I wanted to die. I don't know where I'd be had I not looked more closely at the lies I was believing about anxiety.
Many go through life only masking the issue and not addressing it honestly so that they can be healed. I want freedom for them.
As I think about the dear sisters in Christ who are still in bondage, how can I not speak out? How can I not share my story? How can I not endure the cutting remarks from those who disagree if it saves but one soul?