Another Way Creation Groans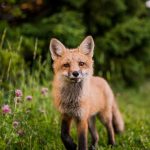 I feel a sort of protection over the wildlife in my backyard. As a child, I imagined myself to be like a Disney princess, surrounded by wild animals. As an adult, not much has changed. Currently, there's a mama robin tending to her nest on my house, a few baby squirrels in our pine tree, yellow finches on my bird feeder, and until yesterday, two adorable bunnies grazing on the frosted green grass each morning.
Now there's only one. We found the other's remains leftover from the neighborhood stray cat that's been hanging around.
Nature.
It's nature, but is it really natural? Death of innocent animals? The cuddly cat that becomes a predator? Hawks that swoop in to steal new life?
I've been studying the old story of the first garden where death didn't exist and God's creation was untainted. Things were perfect then—they were good then, as God declared (Genesis 1:31).…
Read More