Blessings and Birth Injuries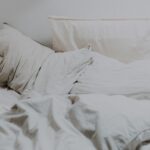 Every morning I wake up hoping that today will be the day I can walk again. I slowly try to lift myself only to feel paralyzed by pain. The once simple task of rolling over to get out of bed has become one that I dread every single sunrise. Once I finally make it out of bed and steady myself with a walker borrowed from a friend, I make the long, excruciating trip to the bathroom. My days are spent missing out on life from the couch or bed and not knowing when it will get better.
If you didn't know, when our sweet William was born I suffered a birth injury. They tell me it could be weeks or months before my pain is gone. These days are real and raw and wearisome. I've heard the bootstrap theology—those who plead self-sufficiency and stoicism over their suffering.
JUST GET UP ALREADY.…
Read More