When a Writer Can't Write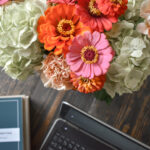 I haven't watered my plants in weeks. As I type, yellow leaves dangle in the wind moving back and forth, hanging by a thread until finally giving up. Next to the leaves, bright red peppers rot right on the vine. Somehow, despite the lack of water, fresh green leaves with tiny buds adorn the top. My half-dead plants remind me of my writing life lately. I've got ideas and words and phrases hanging out in my head but no energy to bring them earthbound. Most of the lessons are still being learned and I simply find myself being unable to share much.
What does a writer write about when she can't say much?
I could write about grief, hurt, confusion, and discouragement.
I could write about how it feels like my body is failing in my 30s.
I could write about mom guilt and worry over missed milestones and social struggles.…
Read More