Seasons of Spiritual Drought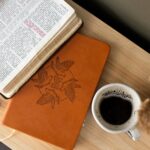 If you walked the path alongside our house from the driveway, you'd find a patch of dried up wildflowers. Continuing around the corner and past the blue chair on the patio, you'd notice more dead plants in pots as well as a much bigger patch of dried up, shriveled stalks that used to be zinnias. Ah, winter.
I thrive in the summer. Winter just isn't where it's at for me. But as I go on my morning walk, I do appreciate what the brown grass and leafless trees preach to me. It's easy to feel discouraged at the sight of their dormancy. It's what is unseen that brings me delight and hope. Underneath all that dryness is a life, ready to bloom—to be revived. And it will be revived, soon.
This ushers in hope because it's a picture of the spiritual drought many Christians walk through. We fear the winter will never let up.…
Read More