Beware the Draw of Laziness in the Midst of Suffering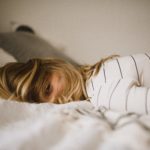 There's a permanent indentation in my couch. The toll of first-trimester exhaustion from two pregnancies, as well as the miscarriages that ended them, has made its mark on our lives. That once new couch is just one evidence of it.
It's been there from the beginning, delivered with it's appalling "new furniture smell" as I fought off morning sickness. But as my nausea faded, along with the little life inside my womb, my body sunk deep into the fleeting comfort it provided. It comforted for a time, but as all false refuges do, it left me unsatisfied.
A Time to Mourn
As Solomon reminds us in Ecclesiastes, there's a time and season for all things. Certainly, there's a time to mourn and a season for healing, both emotionally and physically.
…a time to weep, and a time to laugh;
a time to mourn, and a time to dance; (Eccl. 3:4 ESV)
When sorrow swoops down like a hawk in hunting, stealing our health, taking our loved ones, and breaking our hearts, we must weep for what was lost and mourn what will never be.…
Read More