Of Miracles and Grace: Theodore's Birth Story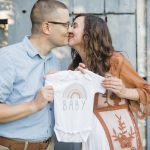 I've never been a "birth story" kinda gal. Only a couple times have I found myself reading one. In fact, birth stories made me anxious. They caused me to fear the discomfort and pain that accompany ushering a child into the world.
Then, as I walked through loss after loss, birth stories reminded me of delivering the three babies I desperately longed to meet but never got to. They made me long for a different story than the one God had ordained for my life—one where babies don't die in utero and mamas don't have to live with an ache so deep. So I began to avoid birth stories in an effort to keep my mind fixed on Jesus and content with the lot he had given me.
Honestly, I find it weird that I'm sitting on my couch, staring at my computer and writing this today. But as I ponder what took place just a few weeks ago, I'm left in awe of God.…
Read More