And God Watered my Cucumbers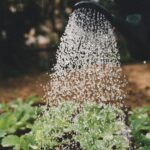 Three days equaled two hours of sleep.
It's the place where brain fog and emotions are high.
I've been staring out the window,
I need to water the cucumbers.
I sit in the chaise lounge,
Nursing through blood, sweat, and tears.
Latching sometimes takes hours,
So I can't water the cucumbers.
My husband holds the baby,
My firstborn looks at me and,
I see the struggle with the change in the tears that roll down his cheeks.
I hold him as we cry together in the kitchen.
There are more important things than watering the cucumbers.
Holding onto the wall I walk down the hallway,
Pain lighting up my back, hip, and leg.
I fall to the ground and it's there I sit a while.
I can barely walk.
I can't water the cucumbers.
There they sit,
Leaves wilted and browning.
Their importance to me is bizarre.
I glance out the window and my eyes meet rain,
God watered my cucumbers.…
Read More