Why You Shouldn't Tell Your Boyfriend Everything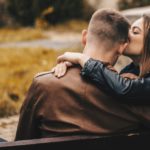 There are men other than my Husband who know me deeply. They know about my childhood, my struggles and dreams. I wish I could say I'm talking about my Dad and another Father figure but unfortunately, that isn't the case. They were my previous boyfriends.
As a teen, I was on a long search to be known. I craved it like Chipotle or ice cream. I needed to be known, to be understood. So, I was pretty much an open book begging to be read by any boy who showed interest. Oh please, let me tell you about all the ways I have been hurt in my life! It made me feel close to them–even if we weren't physically close.
The problem is, my ex-boyfriends were never meant to have those pieces of my mind. I was never meant to be deeply known by those men. I should have reserved those deeper hurts and fears for my Husband alone (Lucky him!).…
Read More