I Was Hosea's Wife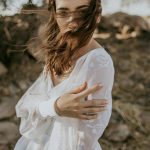 I laid there, anxiously awaiting the morning and the events to come. Soon, I would put on my button up shirt and comfy shorts, just like they told me. I'd sit in a room with some of the dearest women to my heart, as curls were strategically placed in my hair. I'd rest my eyes as my friend brushed shimmery colors upon my eyelids.
And then, I'd slip on that dress. The one I had longed to wear all my life.
I can't even begin to explain the load of emotions I felt that night and the next day. If I could sum them up in just one word it would be…redemption.
Hosea's Wife
Only years before, I could have been named among Gomer and the adulterous woman. I was a slave to sin who lacked the desire for freedom. My body and heart were not places of purity, but rather, tools to get what I wanted; to feel loved–even for just a moment.…
Read More