Practical Ways to Treasure Christ More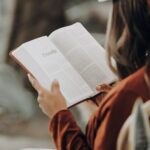 A version of this article was originally published on Unlocking the Bible.
---
I often look back on my day with regret. I think of the many minutes gone to waste in the form of mindless scrolls or swipes, and the hours spent with eyes glued to a screen.
Someone posed a question once that pierced my heart: "How much time do you spend pursuing earthly things compared to time spent seeking God?"
Ouch. That's a convicting question. If we think about it for more than a minute, the Holy Spirit might just peel back the layers of our heart, exposing what we truly treasure.
What Do You Treasure?
For where your treasure is, there your heart will be also. (Matthew 6:21 ESV)
As Christians, we must ask ourselves: How much of our time is spent scrolling Instagram, practicing a hobby, or watching Netflix? How often are our minds filled to the brim with these things?…
Read More