Surprised by Joy in Motherhood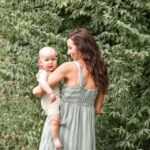 "Dees," said the sweetest little voice as our son pointed out the "doggie" in his bedtime story. It's my new favorite thing. That and a million other things he says and does. Like how he follows our amens with an adorable "anay." Or how he reaches over to play with my sleeve or hold my finger. Even how, to show his affection for his daddy and I, he grabs our legs and goes in for a big bite. Motherhood is sweet.
Before my husband and I began our journey into parenthood, I was thoroughly prepared for the pain and frustration that being a mom would bring. Mommy bloggers on social media preached to me that motherhood was a sort of death. Not the holy, Christlike death to our self-service that it truly is, but a death of all things easy and joyful.
They made me believe I'd hate my days at home with a little one.…
Read More