Worship While You Rock Your Baby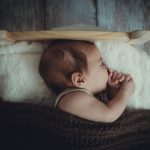 I thought about the long list of to do's written in the margins of my planner—the dishes that needed doing and clothes that needed folding. The toilets were dirty and, oh yeah, I hadn't read the chapters for Bible study yet.
These tasks flashed into my mind one by one as I wrestled my baby boy into a soothing position in an effort to calm him.
Lately, heading into nap time is like preparing for war. I know he'll scream, arching his back in protest. So I prepare my mind and heart for action. I know there will come a time where he finally relaxes and gives up the fight, but it's easy to get flustered and impatient when a baby is screaming in your face.
I remember in the early days of his little life how quickly anger and anxiety would erupt from within as I held my helpless baby in my arms, feeling just as helpless myself.…
Read More