This Pregnancy Isn't About Me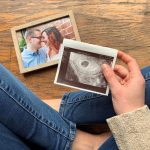 I wanted to share an update but felt unsure of how. The typical "Baby Allen coming soon!" announcement just isn't within our reach. We hope the above statement is true, but only God knows. So, this is the best way I found to say…we're pregnant again.
I was hesitant to share this. I feared what people would think of my decision to announce our fourth pregnancy to the world so early, given our struggles with miscarriages. "They'll think I'm presumptuous or just plain stupid. What if I miscarry the day after I share the news? Then I'll be so embarrassed!" Most people would advise me to keep quiet, reminding me the world doesn't need to know. But I feel this urgency to push past the discomfort.
If I've learned anything in this season, it's that pregnancy isn't really about me anyway. It's not about 9 months of pampering and getting everything I want, it's not about receiving my ticket to the mom club, or the attention you get from virtually everyone—strangers included.…
Read More