Do You Remember? (a poem)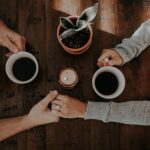 a poem for my sweet husband on our ninth wedding anniversary.
---
Do you remember
how in the beginning
I took offense to your joke
that I should sew?
"Not my type."
Famous last words.
Do you remember
months of friendship and laughter and Bible study later
I changed my mind?
Nine years now and
I still choose you.
I will always choose you.
Do you remember
the waddling duck before us
as we walked the path
ahead of our friends
when we got lost in our conversation?
I knew you'd be my husband.
Do you remember
when we walked for the first time
our favorite trail
on a warm February day
and you held my hand in your own?
Do you remember
how I forgot the people in the pews
and wiped my lipstick off your lips
on the alter
when I became your bride?
Do you remember
how many bobby pins
you patiently took from my hair
before we could
become one?…
Read More