The Beauty of Marriage and Unity With Christ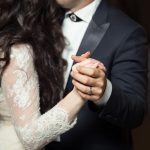 Walking down the aisle to meet my Groom is one of my most precious memories. It was the fruition of all the years of painful waiting. An event that displayed the Lord's faithfulness to me.
All of the anticipation of what it would be like to experience oneness with this man I loved so deeply, would finally be realized.
As I took each step, I was fully aware of our God who had paved the way for us. Every foot forward, resembling each day of walking with the Lord until the day we see him face to face. He is paving the path to glorification where we will finally meet our Savior.
Earthly Wedding, Heavenly Joy
My wedding day was more beautiful than I could have ever imagined. From my dashing groom to the cowboy boots on my feet, I had mapped out every detail. Though the flowers and dress were perfection in my opinion, they, along with all other tangible things, were not factors in the true beauty surrounding the day.…
Read More