Wives, You're Not Immune To Attraction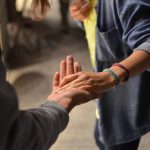 It all started with that first happily ever after movie, preaching the same old story of perfection found in a prince. He would be dashingly handsome and his charisma would forever sweep me off my feet. We would live, always fully enthralled with each other's affection and never tempted to glance away.
Or so I thought.
They Lied To Us
Movies and Christian romance novels have lied to us, ladies. So many of us believe that once we find the right "prince," our affections will never waver and our eyes will never wander. But that's a lie…and a dangerous one.
Here's the thing. Saying your vows isn't like taking a love potion. At some point in your marriage, you will be tempted. We don't like to talk about these things because of embarrassment, but there's truth to be heeded here.
It's no secret that I think my man is pretty hot.…
Read More